Duck hunting paradise
by Odle, Jack-Progressive Farmer, Nov 2000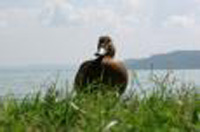 And it's a pretty good farm too.
Wait. Hold on. Stay down. Don't move. Wait. Wait. Wait.
As I listened to Phil Lewis give us instructions, I started breathing faster, my pulse quickened and the pounding in my chest grew-all signs that the adrenaline was kicking in.
We had watched the mallards drop from the sky, drawn by the magnetic calls of Phil and his partner, Louis Pope. The flock of 24 mallards circled twice, getting lower and closer each time. Had Phil not constantly told us to wait, I would have jumped up early and forced a long shot.
As the ducks circled for the last time, their wings set, their feet down, I kept waiting and waiting for Phil to give the signal to shoot. But he didn't. The mallards came closer and closer until it looked like they would land on top of our pit blind. I could distinguish every feather, see the color of their eyes and the webbing on their feet. The color of the drakes was dazzling, almost mesmerizing, as they glided closer and closer.
Finally Phil said, "Take 'em." We slid back the lid to the blind and jumped to our feet. The mallards I thought were only a few feet away were actually more like 20 yards away. Still close, but not as close as they appeared from our huddled position inside a pit blind.
I picked a drake straight out from me on the outside fringe of the flock. He dropped like a rock. Then I swung on a closer drake. But before I could shoot, he folded, the victim of one of my hunting partners. I picked out another and fired. He fell nearly into the blind. My two shots taken from my over and under, I watched as more ducks splashed into the flooded rice field. Others, pumping their wings, fled to safer skies.
For someone who had never experienced an Arkansas duck hunt, this outing more than lived up to my expectations. The areas around Stuttgart were teeming with ducks, mostly mallards but also some teal, pintail and gadwall. We hunted flooded rice fields from the pit blind and wooded areas on land owned by Phil and Louis called B & B Farms.
B & B won the 1999 Rural Sportsman Waterfowl Stewardship Award, and Phil and Louis invited several of us from Progressive Farmer/"Rural Sportsman" to try out some of the greatest duck hunting in the world. We were quick to accept.
With the help of farm manager George Baird, the two Memphis businessmen and farmers have turned their 540-acre rice farm into a waterfowl paradise. Key to the improvements is the proper management of water. Rice fields have been precision leveled to hold water on the fields. The size of the water reservoir was doubled to 120 acres and now provides a two-year supply. Water draining off the fields is recovered for reuse.
All this means is that Phil and Louis have united waterfowl and intensive agriculture in a workable, environmentally sound marriage. It also means that they have some great duck hunting.
To that I can personally attest.
Copyright Southern Progress Corporation Nov 2000 Provided by ProQuest Information and Learning Company. All rights Reserved